Oct. 3, 2023
Food Uses
Soursops of least acid flavor and least fibrous consistency are cut in sections and the flesh eaten with a spoon. The seeded pulp may be torn or cut into bits and added to fruit cups or salads, or chilled and served as dessert with sugar and a little milk or cream. For years, seeded soursop has been canned in Mexico and served in Mexican restaurants in New York and other northern cities.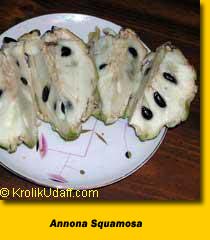 Most widespread throughout the tropics is the making of refreshing soursop drinks (called champola in Brazil; carato in Puerto Rico). For this purpose, the seeded pulp may be pressed in a colander or sieve or squeezed in cheesecloth to extract the rich, creamy juice, which is then beaten with milk or water and sweetened. Or the seeded pulp may be blended with an equal amount of boiling water and then strained and sweetened. If an electric blender is to be used, one must first be careful to remove all the seeds, since they are somewhat toxic and none should be accidentally ground up in the juice.
In Puerto Rican processing factories, the hand-peeled and cored fruits are passed through a mechanical pulper having nylon brushes that press the pulp through a screen, separating it from the seeds and fiber. A soursop soft drink, containing 12 to 15% pulp, is canned in Puerto Rico and keeps well for a year or more. The juice is prepared as a carbonated bottled beverage in Guatemala, and a fermented, cider-like drink is sometimes made in the West Indies. The vacuum-concentrated juice is canned commercially in the Philippines. There soursop drinks are popular but the normal "milk" color is not. The people usually add pink or green food coloring to make the drinks more attractive. The strained pulp is said to be a delicacy mixed with wine or brandy and seasoned with nutmeg. Soursop juice, thickened with a little gelatin, makes an agreeable dessert.
In the Dominican Republic, a soursop custard is enjoyed and a confection is made by cooking soursop pulp in sugar sirup with cinnamon and lemon peel. Soursop ice cream is commonly frozen in refrigerator ice-cube trays in warm countries.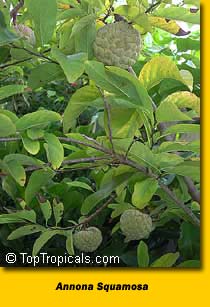 In the Bahamas, it is simply made by mashing the pulp in water, letting it stand, then straining to remove fibrous material and seeds. The liquid is then blended with sweetened condensed milk, poured into the trays and stirred several times while freezing. A richer product is made by the usual method of preparing an ice cream mix and adding strained soursop pulp just before freezing. Some Key West restaurants have always served soursop ice cream and now the influx of residents from the Caribbean and Latin American countries has created a strong demand for it. The canned pulp is imported from Central America and Puerto Rico and used in making ice cream and sherbet commercially. The pulp is used, too, for making tarts and jelly, sirup and nectar. The sirup has been bottled in Puerto Rico for local use and export. The nectar is canned in Colombia and frozen in Puerto Rico and is prepared fresh and sold in paper cartons in the Netherlands Antilles. The strained, frozen pulp is sold in plastic bags in Philippine supermarkets.
Immature soursops are cooked as vegetables or used in soup in Indonesia. They are roasted or fried in northeastern Brazil. I have boiled the half-grown fruit whole, without peeling. In an hour, the fruit is tender, its flesh off-white and mealy, with the aroma and flavor of roasted ears of green corn (maize).
Food Value Per 100 g of Edible Portion*

Calories
61.3-53.1
Vitamin A (B-carotene)
0
Moisture
82.8g
Thiamine
0.11 mg
Protein
1.00g
Riboflavin
0.05 mg
Fat
0.97g
Niacin
1.28mg
Carbohydrates
14.63g
Ascorbic Acid
29.6 mg
Fiber
0.79g
Amino Acids:
Ash
60g
Tryptophan
11 mg
Calcium
10.3 mg
Methionine
7 mg
Phorsphorus
27.7 mg
Lysine
60mg
Iron
0.64 mg

*Analyses made at the Laboratorio FIM de Nutricion, Havana, Cuba.
| | | |
| --- | --- | --- |
| Voice: +1 609 987 0550 | Copyright 2023, iTi Tropicals, Inc. | Fax: +1 609 482 4333 |